September 9, 2020
Dear People of St. Stephen's,
 
I hope you are well this day. Please know that you as individuals and our community as a whole are in my prayers.
 
It has been just about six months since we last celebrated Eucharist together. This fact feels truly staggering. In the interim, I have had untold conversations about how we might celebrate communion during this time of social distancing. I have been concerned both with the health and safety of our community and with preserving the meaning (the theology) of communion. And I am excited to announce that we have found a way forward that feels right at this time.
 
On Sunday, September 20th, our 10am live-streamed service will be a service on Holy Eucharist. During the week before, members of your altar guild will gather outdoors, socially distanced, masked and gloved, to bag hosts for each individual or household who responds to the below survey. We will then hold a very small service of Holy Communion (which I plan to live stream as well) and together bless the bagged wafers.
 
On Friday and Saturday, September 18th and 19th, we will hold pick up hours for you to come pick up the blessed wafters. And then on Sunday the 20th, we will celebrate Eucharist live on Facebook and you will be invited to consume your pre-consecrated bread as part of that service.
 
For those who are not online or who would prefer not to consume in this manner, we will include with your hosts a bulletin for receiving communion under special circumstances. This is the same service that your Lay Eucharistic Visitors and clergy use when we visit someone sick at home or in the hospital and bring Eucharist consecrated in our church to them. It is my hope that if you choose to use this service that you will do so with a family member or other church member in a safe, socially distanced way.
 
I believe that this plan will allow for us to celebrate communion together safely.  At the heart of my understanding of communion is community. When we celebrate communion, we connect with God and one another. In this case, the bread is still consecrated in person and then we receive together virtually connected by the internet and in the context of worship. Or we receive together using the service for communion under special circumstances.  Either way, we celebrate communion in community and in the context of worship.
 
Please fill out the following survey as soon as you are able so we can continue to plan and prepare. After completing it, if you have any questions or concerns, please contact me.
Blessings,
Christy+
June 24, 2020
Dear People of St. Stephen's,
Your vestry and I again carefully and thoughtfully discussed the topic of regathering for in-person worship. At that meeting, we decided to continue virtual worship through the summer and to re-engage in this conversation and deliberation at our September meeting.
The overall feeling of the group was one of being uncomfortable with the level of risk implicit in re-gathering and a concern that what was to be gained by worshiping in-person was not worth the risk. As I wrote last time, we would have to be distanced, wearing masks (unable to see one another's faces), not singing, responding to prayers fairly quietly and communion is even more risky not to mention the amount of time and energy that goes into reopening plans and proposals. Yesterday I was on a call with the clergy of our deanery and one person voiced the concern that we had been told not to gather for safety and now we are reopening while the number of cases rise. This is indeed counterintuitive.
I assure you that we do not make this decision lightly. We all deeply miss gathering in person and celebrating the Eucharist together. But we also do not take the risk to our community lightly either. I commend to you the below article by our senior warden, Jan Slaby, describing her experience at Laurie Warren's ordination service this weekend.
Blessings,
Christy+
_________________________________
Laurie Warren ordained a deacon in "Christ's holy catholic Church"
I was honored to attend Laurie's ordination as a representative of St. Stephen's Church.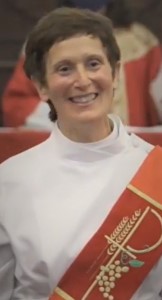 I served as one of three presenters, and I was very happy to do so.  The weather was beautiful, the celebration impressive.  I was reminded (as if I had to be!) that our sacraments and ceremonies are powerful.  The rector of St. John's in Petaluma, Fr. Daniel Green, gave an amazing sermon.  Miles and Kristina brought their beautiful music to the service virtually, and St. John's musician, Kira Poluektov played the harp and the organ on site. When Bp. Megan Traquair laid her hands on Laurie, I knew the Spirit was there. It was not, however, an ordinary ordination, thanks to Covid-19.
We had a virtual rehearsal on the Thursday preceding the ordination.  That gave us only a taste of what was to come.  On Friday evening the twelve of us attending the ordination met at St. John's Church in Petaluma to go through an on site rehearsal.  It was there that I experienced how difficult it is to carry out such a service under the present circumstances.  There were cameras and microphones stationed throughout the church, tape placed in various places to designate where we were to stand.  Our rehearsal taught us where to go and when we were to travel.  We were required to wear masks, sanitize our hands and the surfaces we touched, and keep appropriately distanced from one another; doing so, however, was not always possible.  Nevertheless, that evening rehearsal and the next morning's run through equipped us to carry out the service with dignity and the honor that Laurie's ordination deserved.  
I admire the bishop and her staff for choosing to follow through with these ordinations in spite of the restrictions.  I know that some dioceses have chosen to delay their ordinations until it is safer and easier to do so.  It takes courage and energy to accept the challenge and carry on — carefully.  I came away grateful that Laurie is now an ordained deacon, but I also have a better understanding for how hard it would be to regather in a Sunday service.  Having a fuller complement of people coming together to celebrate the Eucharist would be even more challenging than our experience last Saturday.  With more people there would be more risk, more sanitizing, the discomfort of masks, the need to stay distant from one another, and certainly not to touch one another.  I know we all miss seeing one another and celebrating the "Lord's Table".  Saturday's celebration, however, renewed my sense that we need to wait.
 
-Jan Slaby, Senior Warden
 _________________________________
May 27, 2020
Dear People of St. Stephen's,
 
I hope you are staying cool this hot day. In the wake of our governor allowing churches to begin gathering, I am writing you to let you know that St. Stephen's will not yet begin to hold in-person worship. While this is probably not unexpected news, I realize it may be disappointing none the less. Many of us are very eager to worship in-person and have the chance to see one another face to face without a screen in between. Even if you skip the rest of this letter, please make sure to read the essay that follows. It is written by a parishioner sharing his/her experience of spiritual growth during this time of virtual worship. 
Your vestry and I spent great time and care discussing regathering at our meeting last week and found ourselves to be of one mind. I want to explain to you my decision and their support of it.
 
First and foremost, I find myself not feeling ready to regather out of a concern for the health and safety of our community and I heard this concern reiterated again and again by the members of our vestry. We do not want to put the lives of those we love in our church community at risk. We are also aware of our strong value of inclusivity. This value is challenged by the need to limit the number of people able to be present at each service and by the inability of those at high risk to be present. We are concerned, in part, that offering in-person worship might be hard for some of us to stay away from even if it is not in our best interest.
 
There will indeed be some degree of risk involved in gathering and in receiving Eucharist potentially for years, but I believe we must evaluate the balance of risk and the benefits of taking that risk. At this point, the governor has said that churches may meet in person using up to 25% of the building capacity. Additionally, our diocese is clear that we are to socially distance family units from each other, to wear masks, and that singing is highly discouraged. We are allowed to distribute bread in the Eucharist but there is nearly no way to do this while the priest remains socially distanced from those receiving.
 
Additionally, as you will see in the document from our diocese, we must have a plan for how we will sanitize every part of our building used in worship between each use (doors, chairs, bathrooms, etc. etc.). For this reason, when we do meet, I imagine it being outside both in order to decrease the need for sanitizing and in order to decrease the risk as outside is safer than inside.
 
What all this means is that were we to gather now, we'd be looking at a fairly small group, dispersed 6ft apart, wearing masks (including the worship leaders), not singing, and not celebrating Eucharist. I feel at this time that the risks outweigh the benefits of gathering in person. I also know that I stand with just about every clergy person I know and trust in deciding to wait longer. I feel much safer allowing things to start to reopen and watching what happens before we take such risks at St. Stephen's.
 
Please know that I greatly look forward to the day we can gather in-person. I am aware that our virtual gathering has its limits (though, there are also benefits, again please see below the article). I do not know exactly the day will come. But please trust that your vestry and I will continue to evaluate and pray and talk to other worship communities.  
 
Your sister in Christ,
Christy+
Additional Information:
This is our diocese's guidelines about reopening. This document outlines ALL the things we would have to take into account and create a plan for to submit to the diocese before regathering.
 
This is the same document from our sister diocese of Olympia. They explain reopening based on the phases of reopening in Washington state. I found this to be a helpful explanation.
 
This article gives a narrative of what it would actually be like going to an in-person church service right now. DISCLAIMER: I think parts of this are a bit extreme and a bit harsh, but I do think it does a good job capturing how different our worship would feel.
Articles about churches opening and congregants being exposed to COVID-19
South Carolina Church 
German Church
Church in Butte County 
_________________________________
St. Stephen's parishioner reflects on "added personal depth" of virtual services 
This "Shelter in Place" has been how long?  How many weeks? How much of my life?  Have I suffered?  Have I gained anything?  Learned anything?  
 
Well, it seems like forever, yet it has been but a few weeks. It hardly measures, in ratio, within a year, much less a lifetime, nor have I suffered.  Inconvenienced, yes,  annoyed, I should say,  irked at the lack of concerted scientific leadership, without a doubt.  But, insofar as my experiences with those around me, for the most part there have been so many positive responses that the negative stand out by their rarity. Those persons without masks "glow in the dark" and there is nothing but derision for the hoarders in our midst. Six feet of distance between conversing warm bodies has become the norm, and almost miraculous is the care and thoughtfulness maintained for those in high risk categories. What have I gained? Ah, much more than I expected.
 
The most surprising, and least expected have been the benefits in my spiritual life, i.e. the deepening and widening response to old practices renewed by change.  There is an added personal depth to the service-by-Zoom for me.   There is nothing to distract me from the monitor that brings the message.   The readers are reading only to me, God's Word is uninterrupted and being delivered to me alone–no one rustling in the pews, no distracting sounds can diminish the power of the Word. It is a conversation between me and God, the reader is only the conduit, I am freed by my isolation to accept the message as for my needs alone. There is a strange satisfaction in this feeling of privacy with God that I usually find only in prayer and during the Eucharist. I am being given a new area, a new room, a new space within which I can relax and learn, a new meditation room, as it were.
 
Added to the above as the service continues I find this retreat, this feeling of oneness with God, continues and Christy in her sermon, seems to be reaching out only to me. Her words have special meaning to my condition, as it were.  Seeing her every expression gives a special nuance to her message, and engages me without any disruption. She and I are at one, one in examining the scriptures, one in our search for understanding, one in our search for truth.
 
This meeting place, this Most Holy Place where the partition between the Godhead and us becomes that thinnest of separations, is achieved in a new and exciting way. It challenges me to return to a new exploration of the old comfortable scriptures, not by verse, but by book–by a new examination in its own time and place, of real people with problems comparable to ours and situations we, with a bit of adjustment, experience or relate to currently.   Have I read Job lately? Now there was a man with trouble! 
 
Through all this what have I learned?  A new humility, a new realization that I still have so much to learn, to experience, and as Solomon said, there is truly nothing new under the sun. These days we find so troubling are not new to the world, they're new only to those of us who have not yet been exposed to like happenings. Many alive today have been through worse trials. How lucky we are, and have been, that this is the worst situation we know personally.  Our lives have been blessed and continue to be blessed. Let us be grateful, and more understanding of our fellow beings. We can either let the present conditions harm us, have no effect on us, or we can learn from them and become better because of them. It's our choice.  
 
Life is good, life is precious.  Let us bless the Lord! 
-Anonymous